Welcome to the golden age of Twice, baybee
SuperM SOON??? Plus releases from Twice, KARD, and j-hope and Becky G.
Hello! Welcome to maybe if you stanned, a weekly dive into K-pop releases and fan culture. This week I'm diving into SuperM's upcoming debut as well as releases from Twice, KARD, and j-hope and Becky G. As for other media this week, I've seen Studio Trigger's film Promare three times in theaters in the past 10 days because I am an insatiable little gremlin. You can read my review of the film here, but please… listen to this song from the film if nothing else. Go see it if it's in theaters near you!
Here's this week's Spotify playlist, which contains every track I mention in this newsletter!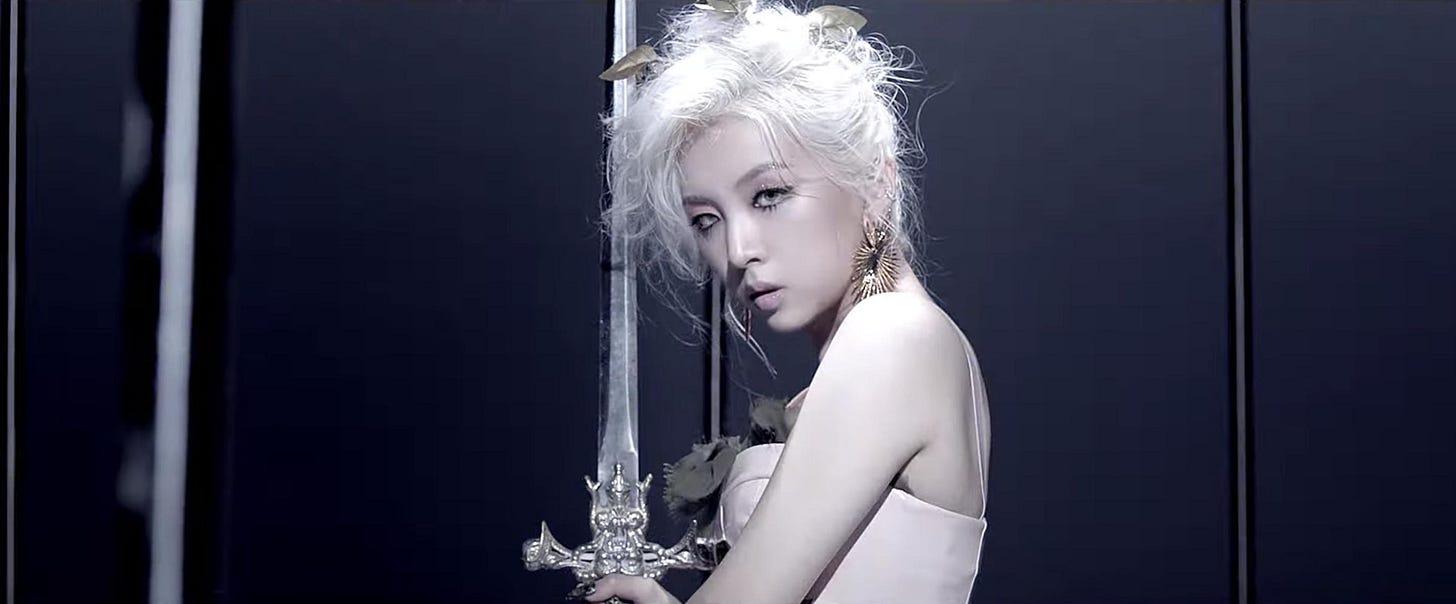 Jeon Jiwoo, "Dumb Litty' | DSP Media
---
What's coming up?
SuperM is finally happening???
I've decided it's time to finally figure out what the hell is going on with SuperM, SM Entertainment's hybrid boy group that's being marketed as the "Avengers of K-pop." I haven't been keeping up with the steady drip of news about the group, mostly because it felt like their October debut was ages away. Whoops!
For those who also haven't been keeping up, SuperM is comprised of members Baekhyun and Kai of EXO, Taemin of SHINee, Taeyong and Mark of NCT 127, and Ten and Lucas of WayV. The group is a joint project by both SM Entertainment and Capitol Music Group and is focused on the United States market. Per Billboard, Capitol Music Group's Chairman and CEO Steve Barnett said during a press conference that, "SuperM is uniquely positioned to become the highest-profile U.S. debut of a K-pop group in the history of this phenomenon." The group has already released an instrumental version of upcoming track, "I Can't Stand the Rain."
With members of both EXO and SHINee currently completing their mandatory military service, the group also feels like a means to fill the gap in SM group promotions. Recently, solo releases from Taemin, Baekhyun, and EXO member Chen have been filling that void, but in addition to US market expansion, SuperM seems like a strategy to mitigate those hiatuses.
Along with the group's upcoming EP release on Oct. 4 (and a live debut on Oct. 5 at Capitol Records), there's also apparently a collaboration with Marvel in the works (the Avengers marketing makes a lot more sense now). Zero clue what form that will take, and SM CEO Lee Soo-man's statement is pretty vague: "We will work on making a story with SuperM, and with the Marvel Story, to make songs that everyone can sing." Okay, sure!
Further reading: Why SuperM is being touted as K-pop's Avengers (Tamar Herman, Billboard)
---
New this week
Twice — "Feel Special," Feel Special
Twice can do very little wrong. Built on a foundation of irresistible choruses and easy-to-learn point dances, they're one of South Korea's most iconic girl groups. That's why it was a surprise when their style began to shift with the arrival of "Fancy," a synth pop banger, and "Breakthrough," a simmering Japanese single that's radically different from any of their previous releases.
Now there's "Feel Special," the group's most vulnerable track to date. Focused on insecurity and companionship, it's an emotionally heavy release that's a stark departure from Twice's typical coy and innocent personality. Over the course of the music video, each of the members stumble upon another, breaking their isolation. The sets and costuming are visually stunning: costumes for the dance sequences shift between pure white, to pink, to purple-themed coordinated outfits while each member gets an extravagant individual set and costume. Mina looks like a princess in an enchanted forest; Tzuyu wears a saintly headdress and ball gown while trapped in a dollhouse. While Mina isn't participating in the group's live promotions due to a recently diagnosed anxiety disorder, she did participate in both the MV and EP.
Musically, the track is relatively synth and dance-heavy: a liberal use of arpeggiators in the background and a strong, punchy synth bass that punctuates plenty of twinkling, flighty chords. The line distribution breaks from the typical rule with Chaeyoung kicking off the first verse (a place frequently occupied by Nayeon) and Jeongyeon and Sana getting some quality chorus time. Dahyun getting the bridge to herself is a highlight — her smooth rapping style is relatively unique among girl group rappers.
The EP itself is perhaps one of Twice's strongest, with each track bearing a distinct flavor. My favorite is "Love Foolish," a sultry dance track lamenting conflicting emotions for a lover. There's "Trick It," an up tempo, aggressive song that feels like it could have been a Loona B-side; "21:29," a ballad with lyrics written by the members of Twice (Nayeon wrote the lyrics to "Rainbow," Jihyo contributed lyrics to "Get Loud," Dahyun to "Trick It," and Momo to "Love Foolish"). Overall, it's an extremely solid EP that makes a convincing case for the group's shift in style. While the group has had heaps upon heaps of success to date, this new era heralds a more mature and sound. Between "Fancy," "Breakthrough," and "Feel Special," it seems like we're on this musical track for at least a while.
KARD — "Dumb Litty"
Back in my early days of K-pop discovery, KARD was one of the first groups that I felt like I could say that I stanned. At the time, they were relatively new: while they debuted in Summer 2017 with "Hola Hola," they had released three pre-debut singles — "Oh Na Na,""Rumor," and "Don't Recall" — that solidified their early sound as a bit poppy, a bit sexy, and all dance. Comprised of members BM, J.Seph, Jiwoo, and Somin, they're a rare, permanent co-ed group.
"Dumb Litty" is maybe KARD in their purest form. Produced by BM, it's a trap-infused single with aggressive synths and a pounding beat that gives each member their due diligence. Jiwoo's swagger throughout is unmatched, kicking off with a stellar opening verse that makes good on the rap promise she's shown in previous releases. There's a kind of cheekiness from J.Seph as well throughout, adding to the single's irreverent "fuck you" attitude. Somin is more refined condescension than snarl; BM is pure confidence throughout.
Ultimately, "Dumb Litty" is a big, aggressive EDM flex that plays to each of the members' strengths while also showing off the group's dance skills. It speaks to KARD's versatility as well — this is by far the most aggressive release they've put out thus far, and it's one they handle with aplomb.
---
j-hope feat. Becky G — "Chicken Noodle Soup"
(and some thoughts about the dance challenge)
In what was essentially a surprise release, BTS member j-hope collaborated with Becky G for a rework of Webstar and Young B's iconic 2006 single "Chicken Noodle Soup." j-hope and Becky G's single is multilingual, with both artists rapping and singing in a mixture of English, Korean, and Spanish. In addition to borrowing the original song's refrain ("Chicken noodle soup, chicken noodle soup, chicken noodle soup with a soda on the side"), it also makes use of its iconic choreography.
Now, that choreography is a dance challenge that was the impetus for BTS finally creating a TikTok account, which in the year of our lord 2019 was basically an inevitability. I have mixed feelings about it: I fear that we're in the death throes of the golden age of TikTok, in which independent, weird creators thrived in an environment relatively free of corporate influences. Now, plenty of celebrities are flocking to the app. It's free Gen Z real estate! The official BTS account kicked off the #cnschallenge; videos under the hashtag have amassed a collective 110 million views on TikTok. I don't think I can embed TikTok's here, so here's the link to j-hope's first video of the challenge.
The single itself, just like the iconic original, is a bop. Making good of Becky G's smooth vocals in the pre-chorus and supported by j-hope's low-tone rap style, the song is held up by the strength of the performers (including a massive number of dancers who appear throughout the music video).
That being said, there's a bit of a sticking point regarding the dance's reframing as a TikTok challenge. "Chicken Noodle Soup," as Complex put it in 2013, was once a Harlem favorite. "When this song came out, you couldn't walk down 125th street, 145th street, 118th, (or any street) in Harlem without hearing this contagious song blaring outside some bodega… the clincher was the dance itself, which resembles shuffling movements done in the earlier part of the 20th century," wrote Linda Hobbs at the time.
Now, the iconic Harlem dance is associated with a K-pop dance challenge. For those who weren't around for "Chicken Noodle Soup's" first bout of virality, there's no association with Webstar and Young B's original track. While the new track has brought the original back into the spotlight, it's all from a point of relativity to j-hope and Becky G's single. Essentially, a facet of 2000s Black culture is now a commodified TikTok dance challenge.
Given K-pop's fraught history with appropriation of Black culture, it's absolutely natural that there's a bit of scrutiny. There's also the fact that for part of the music video, j-hope sports a gelled hairstyle that's reminiscent of dreads. While fans were hesitant to label the style cultural appropriation, it's definitely a particular signifier that's supposed to play into the single's hip-hop concept.
All of that being said, Bianca Bonnie (formerly Young B) has been enthusiastic about the new single on Twitter. "Made a song about Soup & now I'm eating for life," she tweeted on Friday after the song's release. ARMYs (BTS fans) began using the hashtag #ThankYouBianca as a show of support, even encouraging others to stream her most recent album. To its credit, j-hope and Becky G's reinterpretation of the song seems to be rooted in genuine respect and reverence for the source material — the story goes that the original "Chicken Noodle Soup" inspired j-hope when he was young to pursue dancing.
And, just like the original, it totally slaps.
Thanks, and until next time,
Palmer