New releases from everyone, apparently
Hello, and welcome to maybe if you stanned, a whenever-I-have-time-to-write-and-publish newsletter about K-pop music and fandom. It's been an extremely busy February, and therefore an awful month to not publish weekly and end up with a backlog of releases I have to write about! A number of my favorite group's came back this month with new music, so forgive me for going a bit long on this one.
This week, we're covering new-ish releases from KARD, Monsta X, Pentagon, Weki Meki, Dreamcatcher, IZ*ONE, and LOONA. I made the decision to break out my review/discussion/thoughts on BTS' Map of the Soul: 7 into a totally separate post rather than sending out a 4,000 word issue. Check that out if you're interested! No fandom essay this week because this bad boy is already long enough.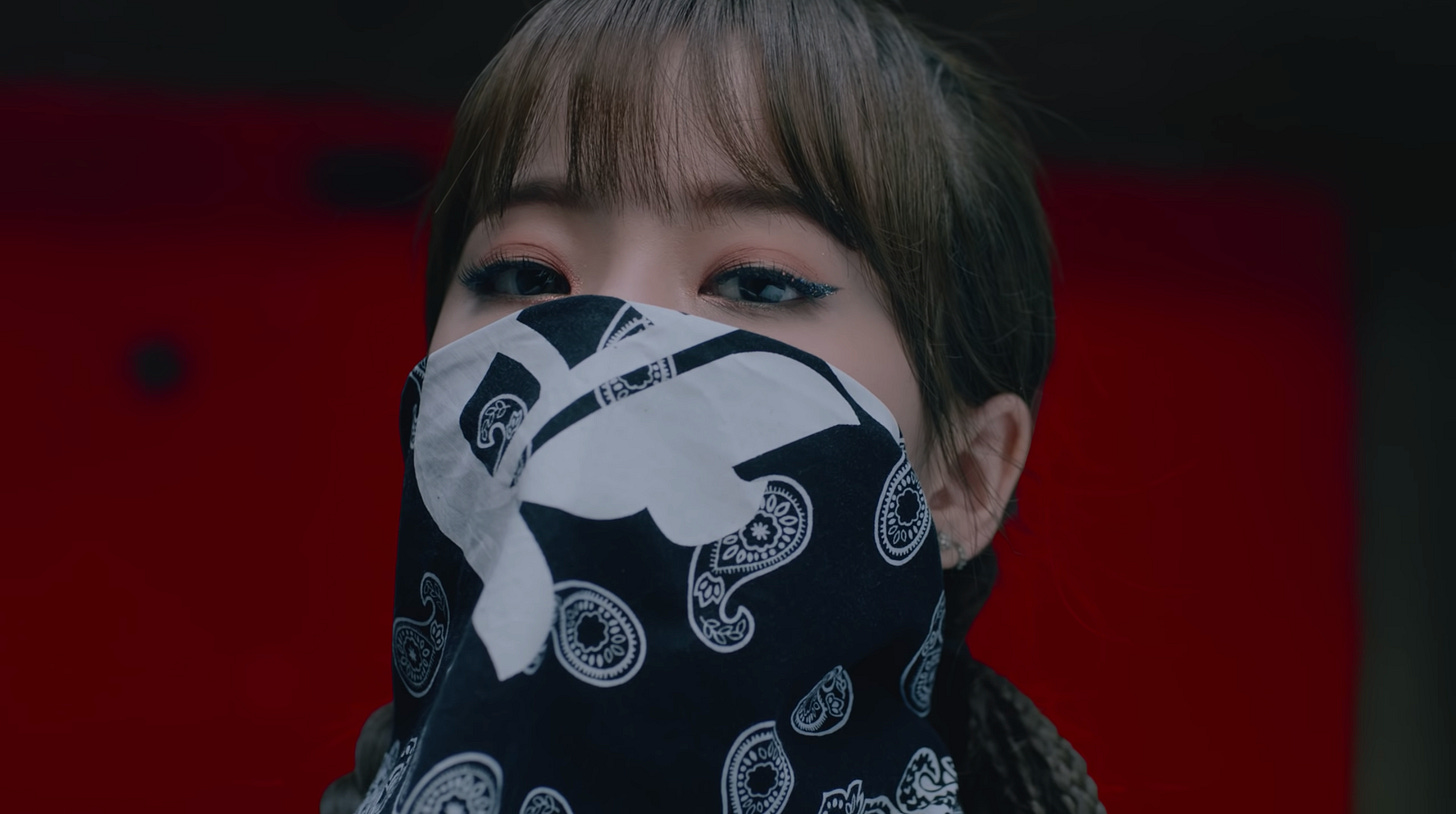 Vivi in LOONA's "So What" | Blockberry Creative
---
Coming up
Elris is coming back on Feb. 26
Girl group Elris, who are housed under Hunus Entertainment, will return with two new members on Feb. 26. New members EJ Chaejeong will join Sohee, Hyeseong, Yukyung, Karin, and Bella in making Elris a seven-member group. Title track "Jackpot" will mark the group's first comeback since June 2018.
NCT 127 is coming back on March 6
NCT 127 will make a comeback with its second album, NeoZone, on March 6, featuring title track "Kick It." The comeback is pretty strongly retro themed, and it seems like there was some controversy over this teaser including Ten (an NCT member who is not a member of NCT 127) when his own NCT subunit promotions are frequently sidelined. That's what I've gathered from scanning some of the replies, but if any NCTzens read this newsletter and want to correct me, please let me know!
Itzy is coming back on March 9
I'm so excited for new Itzy music! The group's previous single, "Icy," was my K-pop song of the summer, and I'm excited to hear what's next for JYP's monster rookies. The new mini album, titled IT'z ME, will feature title track "Wannabe."
---
KARD — "Red Moon," Red Moon
"Red Moon" is KARD's first comeback of the year, finally bringing a full EP rather than just a digital single. It's a classic KARD release, leaning into trap style while also mixing things up amongst the performers themselves. It's great to see Jiwoo get straight-up rap verses, and BM and J.Seph dig into the vocal side a bit too on this single.
While "Red Moon" is great and feels a lot like a classic KARD title track, the rest of the album is what really makes this release stand out. After a summer of moombahton and trap-inspired digital singles ("Bomb Bomb" and "Dumb Litty"), Red Moon leans a bit more into KARD's poppy sound that shone through in earlier singles like "Hola Hola" or 2018's "Ride on the Wind."
"Enemy," which features Jiwoo and Somin, is an easy standout. With a catchy as hell hook spliced together with rap verses from both singers, it fits into the trap-based pop sound popularized by and large by Blackpink and championed by newer groups like Everglow. "Go Baby" is my other favorite track on the album, with a catchy chorus that repeats "Go baby girl / boy go baby girl / boy go." Equality!
Monsta X — All About Luv
I have mixed feelings about this album, which is a rare all-English LP from boy group Monsta X. At this point, Monsta X is an established act, and it's obvious though that All About Luv is intended to be the spear that pierces into the Western zeitgeist. While I do think that it's a strong pop album, my sticking point is the fact that it feels like Monsta X sacrificed a good amount of their unique musical identity in the process.
More recent title tracks like "Follow," "Alligator," "Shoot Out," or even 2018's "Dramarama" all possess a similar flair, anchored by strong rap verses and leaning into either heavy synths or aggressive instrumentals. By contract, All About Luv feels distinctly American pop that plays into growing EDM trends that have become commonplace in the Western pop landscape. I wrote back in October that "Someone's Someone" sounded distinctly Lauv-esque; deep house elements on tracks like "Who Do U Love?" are reminiscent of some of Charlie Puth's thicker bass lines.
None of this is inherently bad, of course — I generally think that All About Luv is a really solid album, and (hell yeah) it debuted at number 5 on the Billboard 200 Albums Chart. I'm inclined to agree with Jae-Ha Kim's Variety review: "All About Luv is a sleek production that seamlessly blends soulful pop with elements of hip-hop and EDM." However, the shift from Monsta X's previous releases to a quintessentially American pop sound is a bit jarring, particularly after the intense, moombahton flavor of preceding title track "Follow." Furthermore, committing to a fully English album in an era in which basically every K-pop group is attempting to cement themselves within the United States market is a power move, and one that's paying off thus far.
Pentagon — "Dr. Bebe," Universe: The Black Hall
I haven't had time to listen to this whole album yet with everything that's going on, but "Dr. Bebe" slapped me in the face. Is Pentagon… coming for VIXX's spot as the kings of kinky concept-heavy releases? In any case, it's a banger. That's all I have to say at the moment.
Weki Meki — "Dazzle Dazzle"
I love Weki Meki's music because they put out straight bops. Last year's "Picky Picky" was so good (that bass line!!) and deserved a music show win, but frankly, the group has never put out a bad single and had what was maybe one of the best debut tracks of 2017. I wasn't really sold on "Dazzle Dazzle" until its chorus, which has a few surprising chords in addition to being catchy as hell. However, my favorite part of this track is my favorite part of any Weki Meki song — when they let main rapper Yoojung go off. Also, the choreo for this single rules. Also, give Weki Meki a win.
Dreamcatcher — "Scream," Dystopia: The Tree of Language
I wrote back in September (in the inaugural issue of this newsletter, actually) about how Dreamcatcher was long overdue for their first win. That's still true, but I'm hoping that their newest single, "Scream" will be the single to help them nab it (regrettably though, February has been struck by a glut of music releases that are making music show wins a bit harder to grasp right now). The group's newest album Dystopia: The Tree of Language reinforces the fact that no one currently promoting really sounds like Dreamcatcher at all.
"Scream" is arguably one of the group's strongest singles yet, keeping the power vocals and driving pop-rock sound that Dreamcatcher is known for while upping the ante in terms of the rap line. Dami gets a real moment in the spotlight this time around — one of my favorite moments in the choreography is during her line in the second verse of the song. Even with Handong absent from the lineup this time around, there's a spot in the choreography left for her, currently occupied by a backup dancer in a mask.
I haven't had the time to listen to the album with a particularly focused ear, but for a first full-length release, Dystopia: The Tree of Language is solid. That's not much of a surprise, though — Dreamcatcher's releases have always been musically sound. "Jazz Bar" is one of my favorites thus far, eschewing the driving rock sound for a more laid back vibe that still suits the group.
IZ*ONE — "Fiesta," BLOOM*IZ
This IZ*ONE album was originally supposed to come out months ago, but was delayed during the Produce series investigation. While X1 — the group formed as a result of Produce X 101 — made the decision to disband following the results of the investigation, IZ*ONE (which was formed via Produce 48) stayed together. BLOOM*IZ is the group's first Korean release since 2019's HEART*IZ.
"Fiesta" is a vibrant pop track with tropical house and future bass influences. Unlike "Violeta," the group's preceding Korean single, "Fiesta" has a fully-fleshed out chorus with a catchy vocal line. A brassy post-chorus riff keeps the momentum rolling along, building to a final chorus that drops into an impactful half-time in the last post-chorus (any time a song breaks to half-time in the end game, I'm listening). I think I prefer this track to "Violeta" — it feels like it has a bit more impact in its final moments, and that brassy synth sound totally blindsided me.
As a full album, BLOOM*IZ is a solid release, leaning into IZ*ONE's versatility. The group's ability to handle cuter tracks like "So Curious" to sultry songs like "Daydream" (easily my favorite track on the entire album) is a great strength. While IZ*ONE has a solid through line through all of their Korean singles (and a cohesive, but separate sound on the Japanese ones), their b-sides frequently feel like a bit of a mixed bag.
Also, side note, but "Open Your Eyes" off of this album definitely uses the same synth chord sample (albeit sped up and pitched down) as Z-Girls' "Streets of Gold."
LOONA — "So What," [#]
Finally, it's LOONA time.
If you've been reading this newsletter for a while, you know that LOONA is one of my ride-or-die groups and that I've been losing my mind over this release ever since we've had a definite date. With a group as versatile as LOONA, it was a bit difficult to know exactly what to expect. That being said, I think [#] (pronounced "hash") definitely delivers on that long hiatus.
"So What" is a pretty sharp departure from any previous LOONA title track, leaning quite a bit more into the trap side than LOONA has ever ventured in the past. It's pure girl crush — a concept that the group has only really touched on with the Odd Eye Circle subunit — and all attitude. While it's not my favorite LOONA title track, it's undeniably catchy, finally leaning into LOONA's rap line (which includes, uh, basically all of them) and keeping the pace moving throughout the verses.
The bridge, which switches over to more lush synth sounds, is two-pronged, slowing down before switching over to a more driving beat that builds into the final chorus. Ad-libs towards the end from Jinsoul cement her as one of the group's most reliable power vocals (she's hitting those notes live) as well as one of its best rappers. That being said, from aesthetics to performance, Yves seems to fully own this comeback. Disappointingly, Vivi (the group's lone non-Korean member) is left virtually bereft of any salient lines in the title track (Gowon and Yeojin aren't too well off either in terms of line distribution).
The rest of the album feels a bit more classic LOONA than "So What," leaning back into the synthy pop sound of [X X]. "Oh (Yes I Am)" is my favorite track on the album, and it has what I think is one of the best bridges on any LOONA b-side (Vivi's "Yeah, gaja, one two" is seared into my brain) in addition to a fun, house-esque bass line.
Overall, I think this is a strong release from LOONA, and one that might endear them to a broader audience. It's worth noting that Digipedi, the company that films and produces LOONA's music videos, did just as incredible work on the MV as ever. WIth a variety of elaborate sets and lighting moments like Olivia Hye holding the torch on the beach, the "So What" music video is pure eye candy.
Thanks, and until next time,
Palmer