Hello! Welcome to maybe if you stanned, a weekly dive into K-pop releases and fan culture. I'm back this week with a nice, meaty issue in order to make up for the fact that I skimped out a bit last week. We've got a whole bunch of news in addition to new releases from Taeyeon, WayV, and AleXa. Towards the end, I break down my vaguely complicated personal relationship with BTS and how I'm trying to rediscover why I started stanning them in the first place.
Here's this week's playlist. Also, a note that this newsletter is best viewed on desktop (or in mobile browser) due to a high number of video embeds!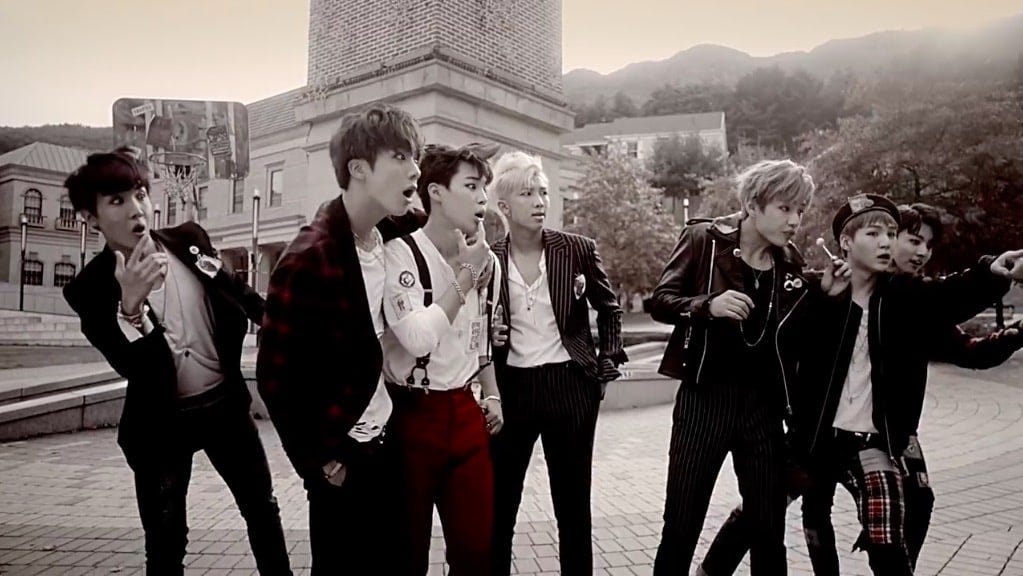 BTS, "War of Hormone"
---
News
It's been... a rough week
JYP announced earlier this week in a statement (translated in full by Soompi) that Stray Kids member Woojin would be leaving the group due to personal circumstances. We don't know much more than that (although JYP's letter did state that Woojin will be "going on a new path," potentially continuing his career elsewhere), but his departure means that Stray Kids' upcoming music release will be delayed. Clé: Levanter, which was previously scheduled for a Nov. 25 release, is now delayed to Dec. 9.
In similar news (just days after a comeback), Starship Entertainment has announced that Wonho will no longer be a member of Monsta X. The group will continue promotions for "Follow" with six members in the immediate future and will only promote as six from here on out. The decision to part ways comes after reported claims that Wonho owes a friend, Jung Da-eun, approximately 30 million won (approx. $25,600 USD). Jung posted a photo of Wonho on television and(per a translation from Metro UK) captioned it, "Ho-seok, when are you going to pay me back?" Han Seo-hee replied to the post, "Give Da-eun her 30 million won." Starship has denied the validity of the claims, stating that it was considering taking legal action.
In the meantime, Monbebes (Monsta X fans) haven't been taking the news lying down and have been orchestrating a massive fan campaign to show their support for Wonho and a seven-member Monsta X.
Oh wow, Hinapia is debuting a lot sooner than I thought!
It just around two weeks ago when reports emerged that four former members of Pristin had signed with a new company and would soon debut in a new girl group. Called Hinapia, the group consists of former Pristin members Minkyung, Kyungwon, Yebin, Eunwoo, and fifth member Bada. Their debut track, titled "Drip," is all girl crush with a killer chorus. The group performed on Show Champion earlier this week prior to their MV drop on Nov. 3 (so, tomorrow), and sent stan Twitter into a vindictive haze (if you remember from a few weeks ago, Pristin disbanded in May under unfavorable conditions and allegations of company mismanagement at the hands of Pledis).
Look out for the MV tomorrow, Nov. 3, at 6 p.m. KST.
IZ*ONE — BLOOM*IZ
Earlier this week, IZ*ONE put out a beautiful concept trailer for what's likely their next Korean release. Visually, the teaser is pretty soft and a little bit surreal, complete with plenty of rose imagery and for approximately five seconds, some killer pastel suits. Musically, it feels pretty in line with what we've heard from IZ*ONE's Korean releases thus far. The group seems to have been pretty busy with Japanese promotions lately — in the time since their previous Korean release (HEART*IZ and "Violeta,") they've released two Japanese singles, "Vampire" and "Buenos Aires." While I think IZ*ONE's Japanese singles are great, it'll be a refreshing return to the production style of their Korean tracks, which has a tighter mixed vocal.
K/DA —> True Damage
Riot Games confirmed earlier this week that there would be a followup to the massively popular K/DA project at this year's League of Legends World Championship finals. While last year's K/DA group, which put out the totally banging single "POP/STARS," featured Soyeon and Mieyon of (G)I-DLE in addition to Madison Beer and Jaira Burns, this year will feature nearly all new members. This year, Soyeon is the only Korean artist in the bunch, and will perform alongside Becky G, Keke Palmer, Thutmose, and Duckwrth. The hip-hop project group, called True Damage, will release its single, "Giants," on Nov. 10, the day of the finals.
Soyeon will once again lend her voice to League champion Akali. Fellow champions Qianna, Senna, Ekko, and Yasuo will also feature in the video.
EXO comeback… soon
Exo is making a comeback titled "Obsession" on Nov. 27. I'm excited. You're excited. We know literally nothing else but dear god did I need this.
Remember The Hollywood Reporter's BTS profile from a while back?
And how it was, uh, not good? The author, Seth Abramovitch DM'd Vulture writer E. Alex Jung on Twitter weeks after the fact to confront him about tweeting a clown meme about THR sending a writer who doesn't speak Korean to profile BTS.
The whole thing has been unfolding as I've been wrapping up this newsletter and reader… it's pretty *chef's kiss*. Abramovitch is confronting criticisms of his profile on Twitter and getting, uh, hella ratioed in the process. He also went after Jung's own profile of the group for Billboard (which, as I've said in the past, is my favorite by far) in the process. Jung's in with the win here:
"OK boomer."
---
New This Week
Taeyeon — "Spark," Purpose
In an electronically-dominated pop landscape, Taeyeon's Purpose is an acoustic breath of fresh air. That doesn't mean it's soft — the album itself is both driving and ruminative. "Spark" is a solid lead single that gives Taeyeon the chance to show off her vocal chops. With a breathy chorus, the song's post-chorus is what truly grounds it, breaking down into a solid beat and thick vocals.
"Love You Like Crazy" and "Better Babe" were album standouts for me, but ballad "Wine" feels like where Taeyeon's voice truly shines. The full album is well worth a full listen.
AleXa — "Bomb"
You may remember her from Produce 48, but Alex Christine has finally made her solo debut with "Bomb," a relentless EDM pop single with a cyberpunk-inspired MV. Her debut has been somewhat of a long time coming: she entered the industry via Soompi's Rising Legends competition series, through which she released single "Strike it Up" as Alex Christine. After being eliminated during Produce 48, she began preparing for a solo debut under ZB Label.
"Bomb" is performance driven, with a massive crew of backup dancers and aggressive choreography. The song itself is a strong debut single, making a strong case for AleXa both as a bit of a power vocal and a capable rapper. There are bits (and maybe this is just my cheap headphones) where the vocal seems to get a bit buried in the mix, covered up by thick synths. It's also worth noting that this was a bilingual debut: the single album on Spotify features both Korean and English versions of the track.
WayV — "Moonwalk," Take Over the Moon
Were you, too, wondering where Ten was during most of SuperM's "Jopping?" Turns out he was right here, front and center for the vast majority of "Moonwalk!"
This is the first single I've really listened to from WayV, the Chinese branch of SM's multi-faceted boy group NCT. While their first original single, "Take Off," aligned with NCT's bass-heavy, eccentric style, "Moonwalk" feels more like an early EXO track, with thickly layered vocals and plenty of soaring chorus lines. The MV itself isn't particularly conceptually heavy, but there's plenty of fun gravity tricks and energetic dance sequences.
BTS (feat. Lauv) — "Make It Right [EDM Remix]"
BTS put out another version of their Map of the Soul: Persona single "Make It Right," this time remixing the latest version featuring Lauv. The remix itself isn't anything particularly notable: essentially what it says on the tin, it's an aggressive spin on the sentimental, R&B-inspired track that feels more like a dance anthem than anything else. The new mix strips the song of much of its sentimentality and nuance, but I mean… it bangs, so there's that. I'm a fan of the gentle, plucky synths during the first verse, but the synth saws during Suga's bridge verse would gel better during a live festival performance than with his original recorded vocal.
Part of me questions the motivation of re-releasing the song now. It's not a particularly innovative spin, nor one that seems likely to pan out in a chart victory ("Make It Right" re-entered the Billboard Hot 100 at #76 after the Lauv re-release). While releasing remixes and renewing interest is a proven strategy to stay on the chart — Lil Nas X did it successfully this summern for "Old Town Road" (with RM's help!) — "Make It Right" doesn't have much charting momentum at the moment. It'll be interesting to see how things play out.
---
Falling back in love with BTS
I have a complicated relationship with BTS. It's not that I have any qualms about stanning them — trust me, I'm in too deep — but more so in the respect that my attachment to them has been at times personal, professional, and academic. My undergraduate thesis was on Real Person Fanfiction, using BTS fic and ARMYs as a case study. I've worked on pieces about the group, including a feature about BTS fan campaigns that never ended up getting published (but still taught me a lot!). I wrote about their ridiculous mobile game. I've dragged my friends into listening to their music. I covered their songs.
Somewhere along the way, I forgot why I had fallen in love with the group in the first place.
I've been a BTS fan for two and a half years now, having started to stan them on the tail end of the group's Wings era. It was just before they truly broke into the US zeitgeist with appearances at the 2017 Billboard Music Awards and American Music Awards, starting to gain traction and fans in the West that would eventually help catapult them to worldwide icon status. I've always felt that witnessing their rise in popularity firsthand has been an asset: along the way, I've also been able to watch the ways that the group's fanbase has grown and changed.
At this point, I think I can at least somewhat call myself an expert on BTS fandom. ARMYs have been the primary conduit to my understanding of fandom and the ways it's mediated by social media. At a certain point, my focus shifted from keeping up with the group for my personal enjoyment to keeping up with every release, fan campaign, and controversy. In short, stanning BTS has become an academic activity as opposed to a leisure one.
I think at a certain point, we all burn ourselves out on the things that we love. I've always flitted from fandom to fandom during my active years online: I go hard for at least a month or so, and then typically move on to something else. With BTS, it wasn't like that: I went feral for around three months when I started stanning them, and then went a normal level of hard for the next year and a half. Once I started writing my thesis, being into BTS was an academic asset. Now, as an entertainment writer, I'm trying to frame it as a professional one (a reminder that you can hire me to write about BTS and fandom!!!). In doing so, I've disidentified with my fan identity.
Over the past few weeks, I've been trying to relearn what got me into BTS in the first place. I rewatched my favoritemusicvideos. I dove back into the silly compilation videos that helped me to learn who the members were in the first place. I listened back through the group's earlier albums (Dark & Wild is my ride or die). Hell, I even played some goddamn BTS World. And yeah, I might have watched this performance like 30 times:
Most importantly, I disconnected from the fandom. I think part of what made feel burnt out on the group was the fact that I wasn't able to make myself stop engaging with BTS content as if I was doing a fandom study. In my early days as a BTS stan, it was all about the music and the group itself. Returning to those roots (and trying to divorce myself from my role as a culture writer in the process) was a good start to falling back in love with BTS the band, not BTS the cultural phenomenon.
And god, has it been a joy!
Feel free to chime in here or on Twitter if you've had similar experiences! I'm curious to know how and why other people start to feel burnt out on their favs or if it was just a classic "don't make the things you love your job" conflict for me.
Thanks, and until next time,
Palmer